What is the best cleaning lubricant for pistols?
Posted By
Jon Davis

Date
Tue, Sep 22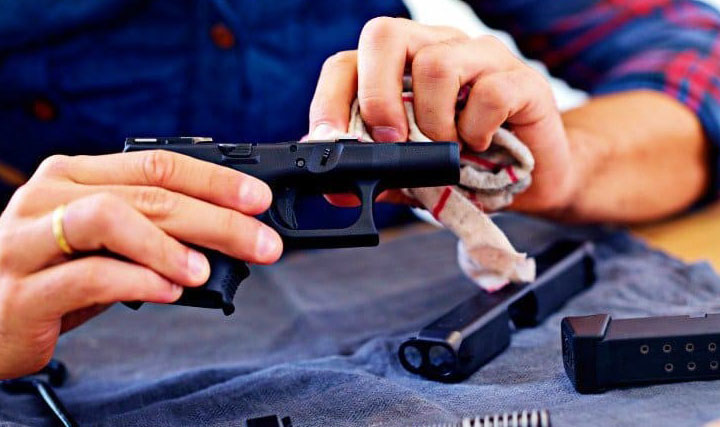 When you become a gun owner, safety becomes paramount. One of the most important things to know as a pistol owner is that you should be regularly cleaning your pistol. Firing your gun causes dirt and dust to build up in the barrel, and this can make your gun unreliable as its performance declines due to the lack of care. This means that it is essential that you never neglect your gun maintenance, as you will only live to regret it later. So, what are the best cleaning lubricants for pistols?
Bisley Gun Oil
This cleaning lubricant is a good choice. It prevents corrosion and rusting as it has a unique rust inhibitor, which will help your pistol continue performing at its best for longer. This cleaning lubricant is good to try on all guns and is not too expensive either. Bisley also offers their gun oil in other forms, such as their gun grease.
Ballistol Multi-Purpose Oil
For those who want to do their part to help the environment, then this choice is for you. Ballistol Multi-Purpose Oil is biodegradable, so it is not as harmful to the environment as other cleaning lubricants are. As well as this, it is great for lubricating pistols and offers a layer of protection for wood, metal, leather and plastic. Due to its alkaline nature, this cleaning oil actually manages to neutralise sweat and other bodily fluids, so there is no need to worry about grubby hands ruining your pistol.
Lucas Oil Gun Oil
Another environmentally friendly gun cleaner, Lucas Oil Gun Oil is recommended by major firearm manufacturers for its ability to lubricate any type of firearm. Cleaning your pistol with this gun oil will make your firearm smoother and make the levers and springs feel brand new again. This oil can also be stored long-term, so if you do not clean your pistol very often, you do not need to worry about your gun oil going to waste.
Pro Shot Zero Friction Needle Oiler
This cleaning oil is great for those who like to be precise. The needle allows you to pinpoint exactly where on your firearm you want to drop the oil onto without creating any mess. The lubrication that this cleaner provides will ensure that your pistol continues to operate smoothly and is great for reaching those difficult areas of your pistol, which you may otherwise struggle to clean regularly and effectively.
Hoppe's No.9
This cleaning lubricant is sure to impress as it reached number one on Amazon's list for the best gun cleaning lubricant. Hoppe's provides a barrier which will prevent corrosion and which will protect your pistol from general wear and tear. This cleaning lubricant is safe and easy to use and even comes with a child-proof cap to prevent any accidents occurring if there are young children in your home. Hoppe's has been a worldwide favourite since 1903, so you really cannot go wrong in choosing them to care for your firearms.